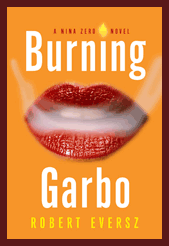 On the morning of her 30th birthday, Nina Zero scales the Malibu hillside above the estate of a reclusive film star who hasn't been seen in a decade. Within the next few hours, a man she takes for a bodyguard tries to kill her, she flees a brushfire that torches the star's estate, a toothless Rottweiller adopts her as his new best friend, and an arson investigator decides to prove she set the fireto photograph the results.

Accompanied by the toothless Rott, Zero goes on the hunt, compelled to prove that someone else set the fire before the cops jail her for the crime of arson and - when charred bones are discovered in the ashes of the star's estate - murder. The killers are equally interested in finding her, and their desperation escalates to a bone-chilling series of violent encounters, in which Nina plays hunter one moment and prey the next.
Amid the mayhem, she finds supporters - a diminutive heiress, a tough-love parole officer, a tabloid news reporter, and a retired sheriff deputy - who help her discover the truth not just about the crime, but also about herself.


Eversz has a superb sense of place that's perfectly matched by his plotting and characterization in a book with action and psychological depth. "Burning Garbo" is rich, rewarding crime fiction by an author who should be much better known.



Detroit Free Press
Zero's is such a sad, funny, companionable voice, and Eversz's L.A. is a noir-lover's neon dream. What's most compelling in Burning Garbo is the way character, whether remaining constant or changing, both drives the story and is itself a kind of metabolizing, breathing organism... Eversz's other main character, of course, is the city of Los Angeles, about which nobody writing today is as sweetly lethal...



Washington Post Book World