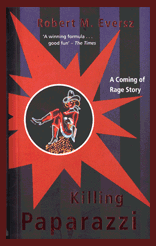 Five years after blowing up LAX, by mistake...
Former baby-portrait photographer Nina Zero is released from a nickel stretch for manslaughter at California Institute for Women. She buys a hot camera and drives to Vegas to marry an English tabloid photographer. She needs money. He needs a green card. They both need sex. It's a marriage made in heaven that swiftly goes to hell when hubby floats to the surface of Lake Hollywood one week later, deader than a Doberman's chew toy.
The Englishman isn't the only snuffed snapper, and as the newest ex-con off the cell block, Nina ranks as the chief suspect. Her parole officer threatens to bust her chops and the cops want to bus her back to prison but if she hunts down the killer she risks a bullet through her lens. Prison bars or a paparazza's grave. Some choice.
What's a formerly nice girl to do except kick butt?
At turns thrilling and hilarious, Killing Paparazzi roller blades through the sun-and blood-soaked streets of a culture obsessed with the pursuit of celebrity.