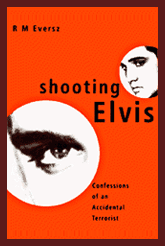 There was no way Mary Alice Baker could have known that falling in love with Wrex was possibly the worst thing she could have done in her life. For not long into the relationship he asks her to do him a small favor: deliver a black briefcase to LAX airport in exchange for a small package. She delivers the briefcase. It explodes.
Mary Alice Baker blows up LAX airport.
By mistake.
Terrified and on the run, Mary Alice checks into a Los Angeles roadside motel where she changes her image, changes her name to Nina Zero, and changes her life.
Nina Zero needs to get even with Wrex. She is also a fugitive from the police and stalked by a pair of sadistic thugs who will stop at nothing to reclaim the package they think she stole. And as Nina takes on her pursuers in a succession of bone-chilling confrontations, she rockets to tabloid fame. For where Mary Alice Baker was meek, mild and very trusting, Nina Zero is smart, sexy and very very dangerous.
Nina's story is the first ever road movie to race across the page, a pounding lend of Pulp Fiction and Thelma and Louise, a savagely wicked confession of an accidental terrorist who ends up shooting Elvis - and more...